Put the pedal to the metal on in our Sprint Cars!
Sprint Cars run on the same track on Mondays and Wednesdays. Drivers must be 16 years old or over with a valid driver's license. $11.50 per 5-minute ride. Shoes and Sandals must have heel straps.

Oval Track Karts – Junior Racer
The oval track is a reverse bank track that has a very slick surface, which makes the cars drift and slide. Cars start together and finish on a timed ride, challenging your driving skills. Drivers must be 8 years old and 48" Tall. $7.75 per person. Single drivers only. Shoes and Sandals must have heal straps.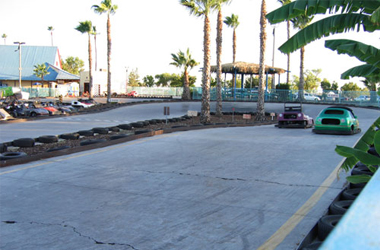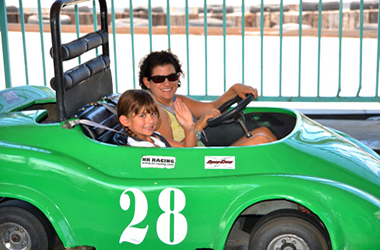 Speedway Karts
The speedway track is a road course, made up of wide sweeping turns. Very competitive for the racers at heart. Drivers must be 14 years old and 58" tall. Passengers must be 36" tall and ride with a driver over 18 years old. Driver tickets are $10.75 and Passenger tickets are $3.00. shoes and Sandals must have heel straps.
Hours:
---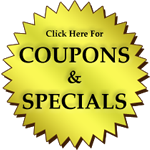 We specialize in family fun with a pirate twist! Come enjoy a day of Miniature Golf, Bumper Boats, Go-Karts, Batting Cages, Waterslides, Ropes Course Adventure, Rides, XTreme Laser Tag, Arcade Games, Bankshot Basketball, and a ROLLERCOASTER!
For more information, call (559) 292-9000 ext 0